2023 Class Projects
My 2023 Collection for zoom and in-person classes.
New designs are always in progress. A new collection will be added in September.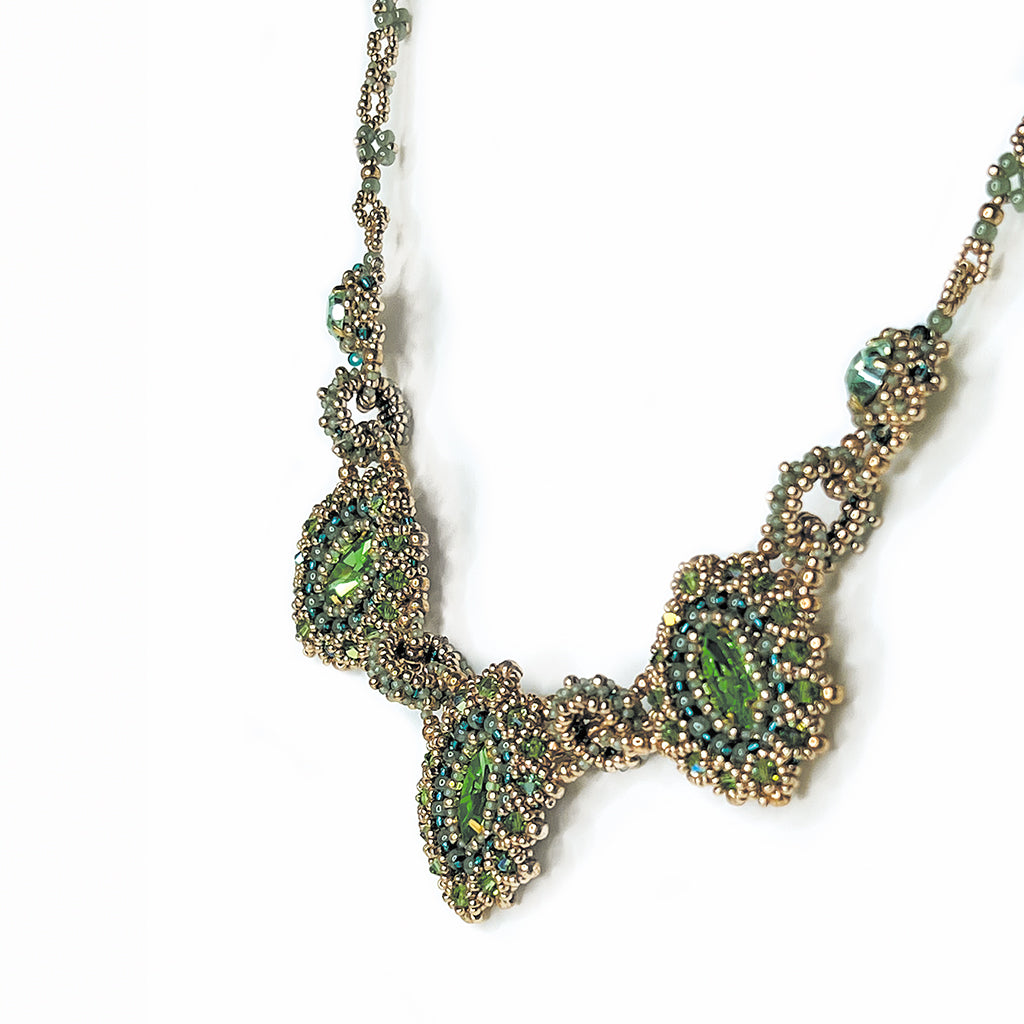 Baroque
 A lavish ensemble of richly detailed beadwork, inspired by history and courtly jewels. Baroque is a collection of bead encrusted Navette and Chaton crystals. More crystals nestle within the design. Each component is joined to the next with embellished links. The piece is finished with a detailed chain of beadwork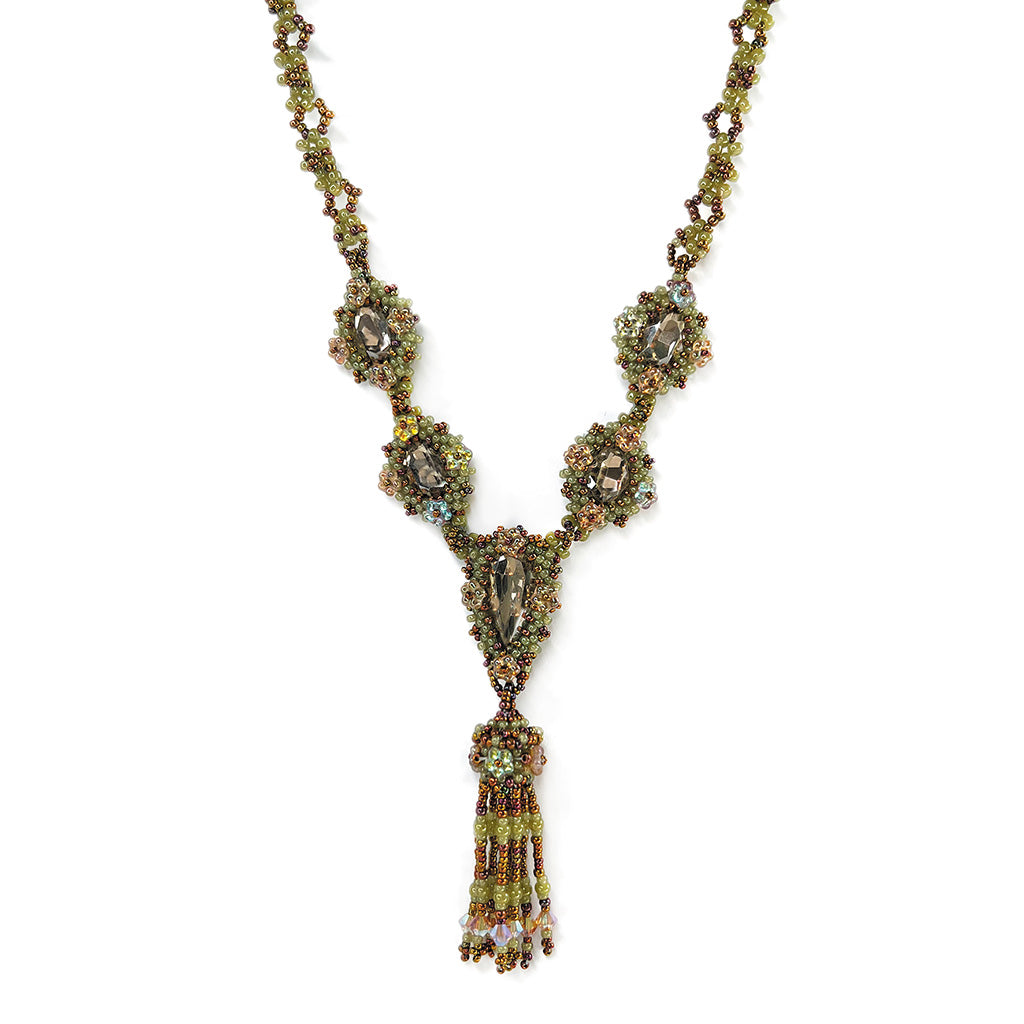 Allingham's Garden
Inspired by the 19th century watercolours of artist Helen Allingham, this classic design is worked around teardrop and oval Aurora crystals and embellished with tiny, light catching glass flowers. A beaded chain necklace and a tassel completes the look.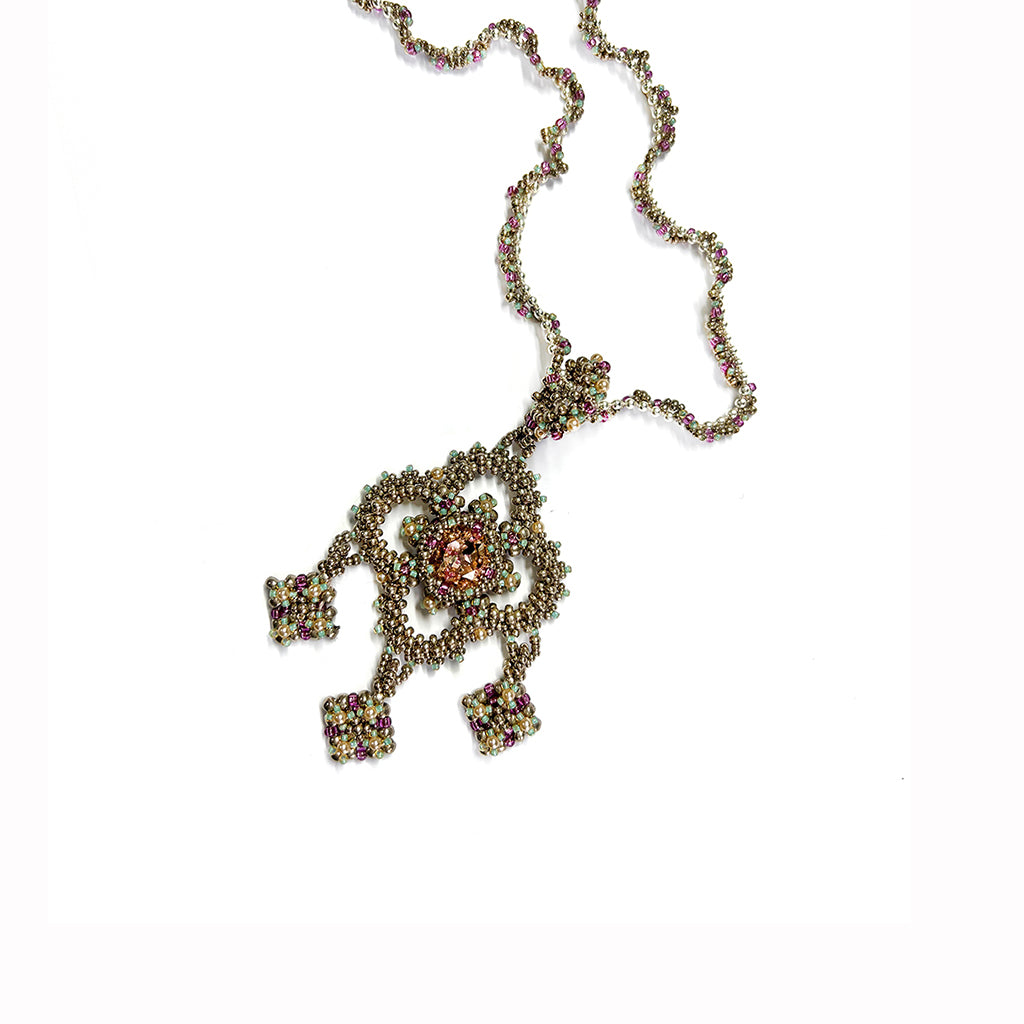 SummerCourt
With it's 'steeped in vintage' style, the Summercourt necklace is a light and delicate treasure. Inspired by the graceful Quatrefoil shape found throughout English Architecture and Interior designs. The pendant has a layered and delicately detailed quatrefoil centrepiece set around a sparking cushion cut stone. Three pearl encrusted pendants shimmer as they move, while a prettily beaded bail supports a new style of beaded chain.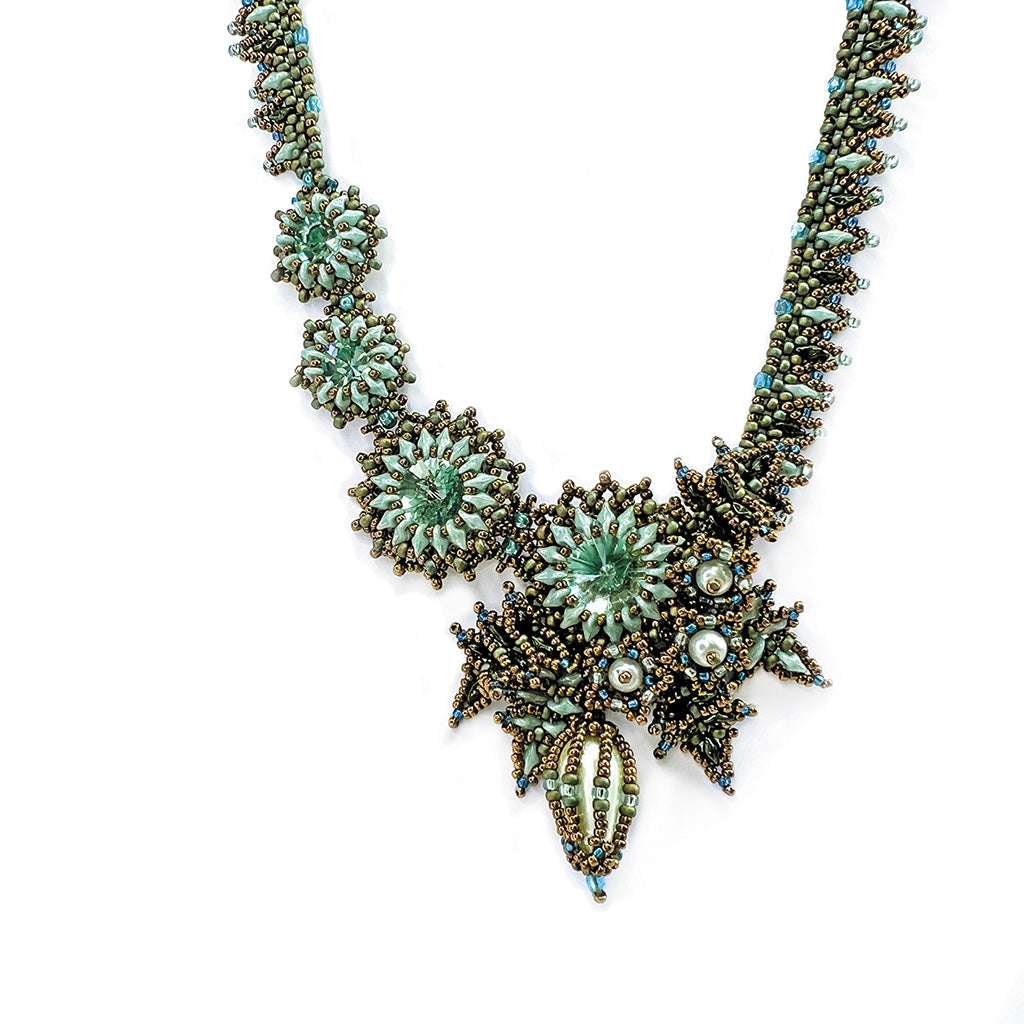 Thistledown
A year of studying the wild flowers in the fields around my home gave me lots of ideas. The Thistledown necklace is an assymetric design, with bezelled Rivoli, beaded leaves and tiny beaded flowers with a pearl at their centres. This design, in softly muted colours, has a gently curving and delicately patterned necklace, plus a seed head style pendant.
Conversation with Colour
A conversation with Colour Pendant
A class all about colour blending and bead embroidery, which grew from student discussions in the Colours of Love Masterclass. Working on a pre-prepared base, dive straight into colour and texture mixing, the how to's of including Cup chain, Montees, small Cabochons and Crystals.
The beadwork continues with a perfect circle bezel and a dainty beaded chain, there is also the choice to add fringing and pendant sections too. The end result is a bold statement pendant rich in detail.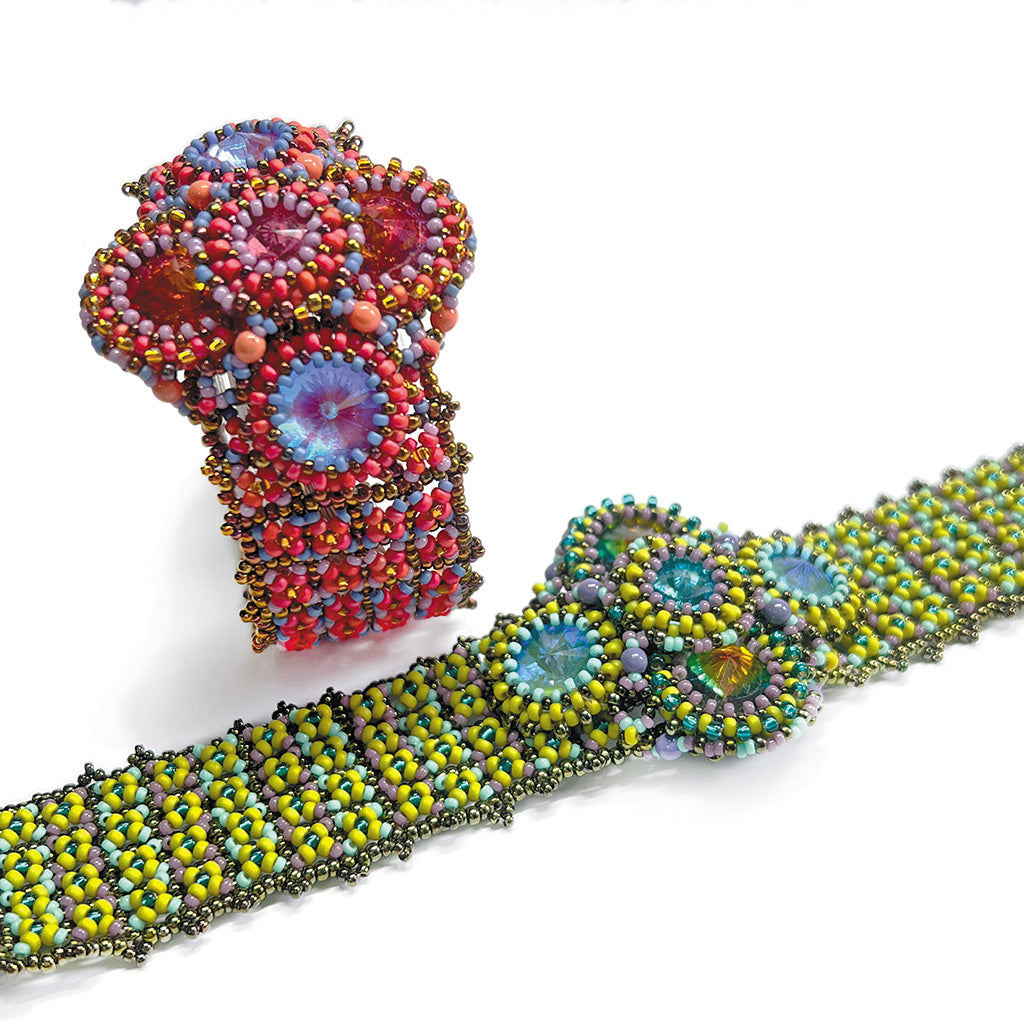 Romany Cuff
 For beading fun, this gorgeously textured and multi layered cuff looks like bead embroidery, but is all pure beading. Create the layered focal with bezelled Rivoli, then work a heavily textured beaded band for the elaborate focal to nestle o. With pearls for accent, this bright and colourful bracelet is pure fun to bead.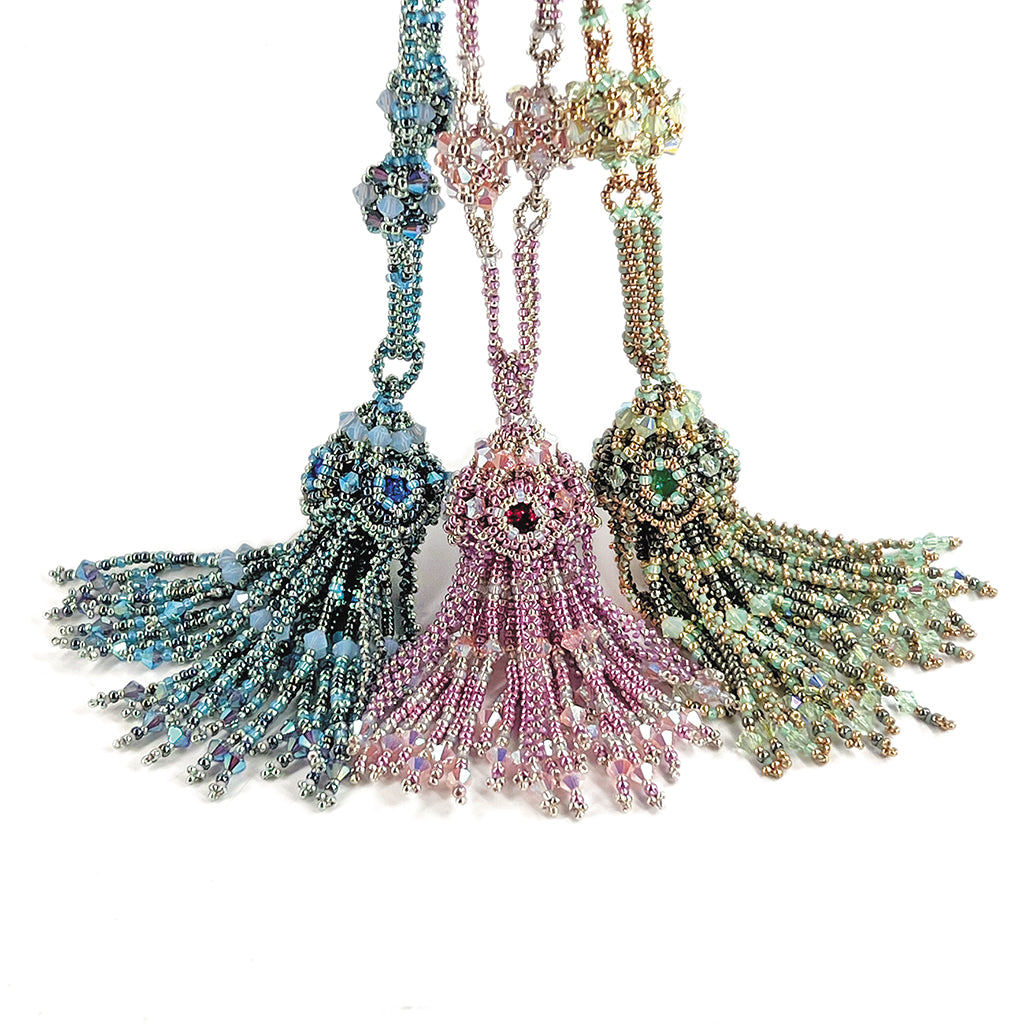 Katia
A gorgeously multi layered tassel pendant. Inspired by the Passementerie of Venice, discovered in a store where time seems to stand still. Katia is a pendant is full of lavish detail. With intriguing double layer Chaton bezels, encasing a tassel of lavish fringing. A sweet necklace strap is worked in size 15 seed beads and interspersed with crystal beaded beads.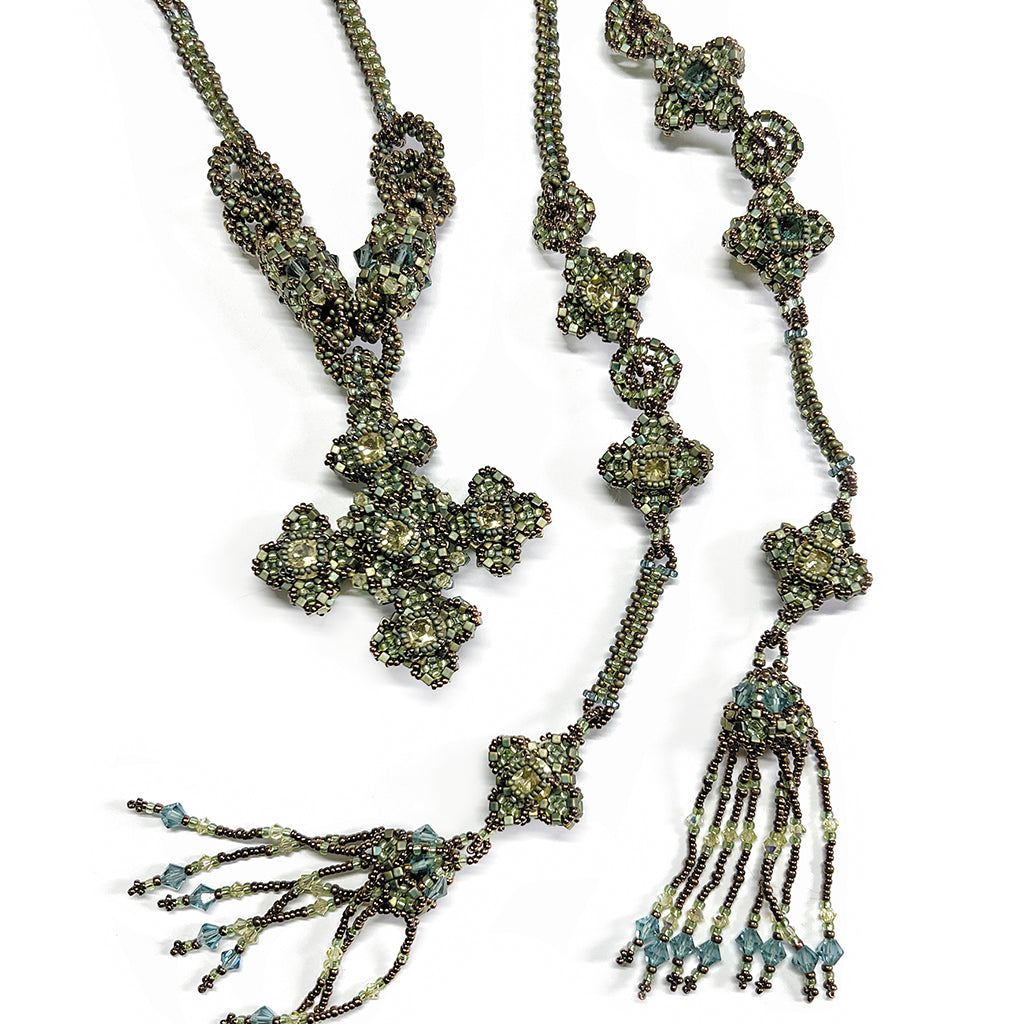 LilyBeth goes Gothic
The LilyBeth design series started as an introduction to bezelled cabochons and mixed bead shapes to 'grow' a bracelet. It returned as a double sided pendant, and now, by popular request, is back as an even more elaborate, double sided Gothic extravaganza. As well as the basic LilyBeth motif, we cover how to create and link the double sided shapes; and how to adapt the design to make beaded beads and tassels. For students prefering not to work a Cross shape, the design can be worked as a gorgeous lariat.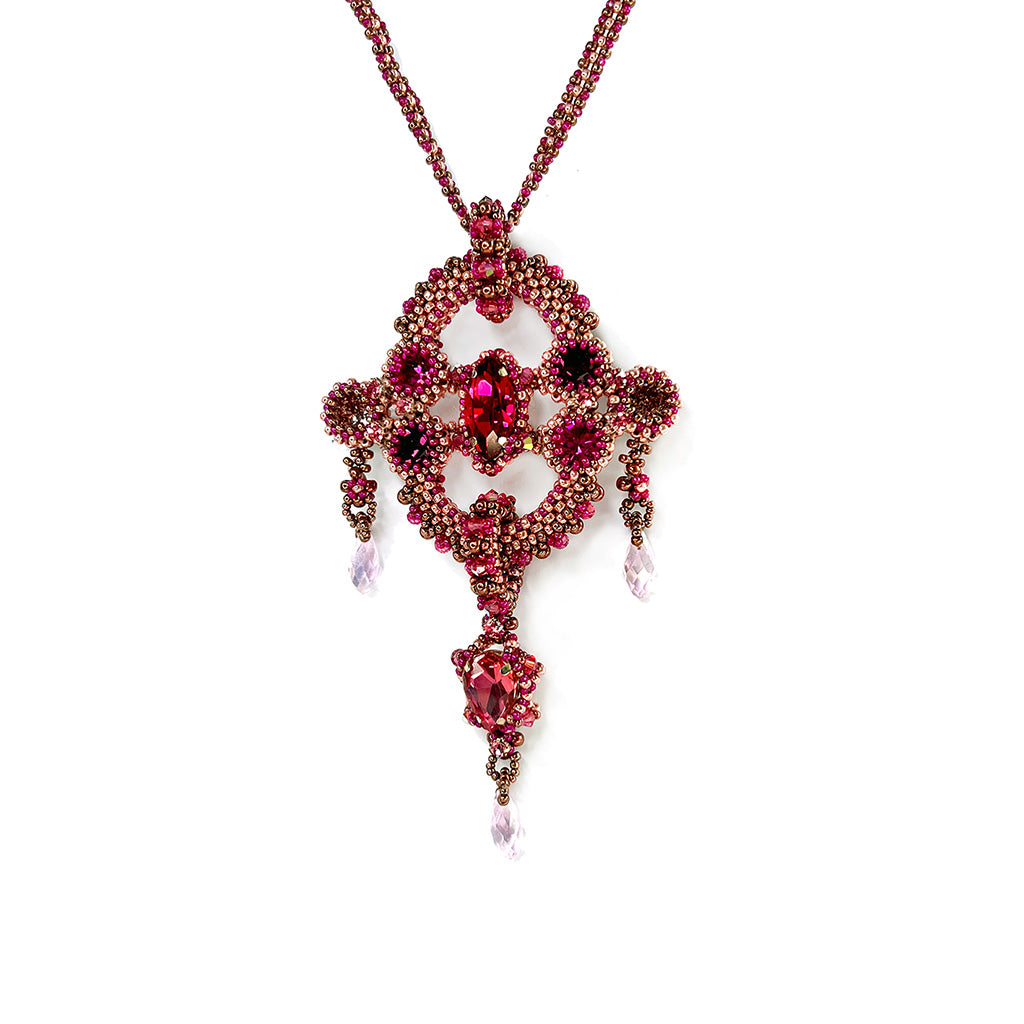 Byzanthia
A pendant full of richly textured detail, the Byzanthia pendant is worked aound three colours of chatons, and as a focal, some new English made crystals in prong settings. At just over 11cm (4½ inches) from bail to pendant tip, this is a gorgeous statement piece, full of movement and sparkle. Details include tiny Rose Montee, 3mm crystals and sweet little crystal drops.The necklace strap is beaded too.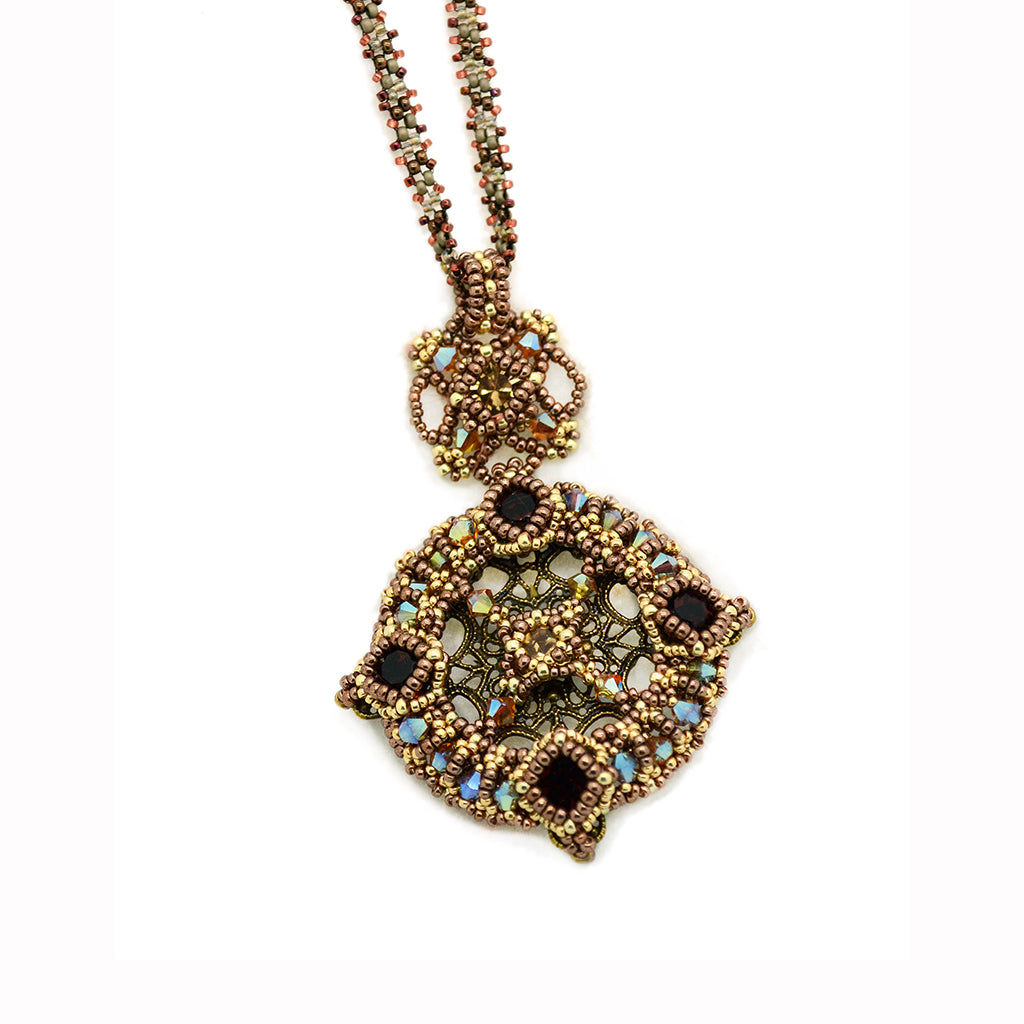 Celtic Princess
A charming medley of beads and metallics, the Celtic Princess is a gorgeous piece to bead and wear. Grown from a delicate filigree metal frame, the beadwork is a rich mix of 8mm Chatons, seed beads and lots of 4mm crystals. A sweet bail section creates the transition from pendant to necklace strap and allows the whole piece to move easily when worn.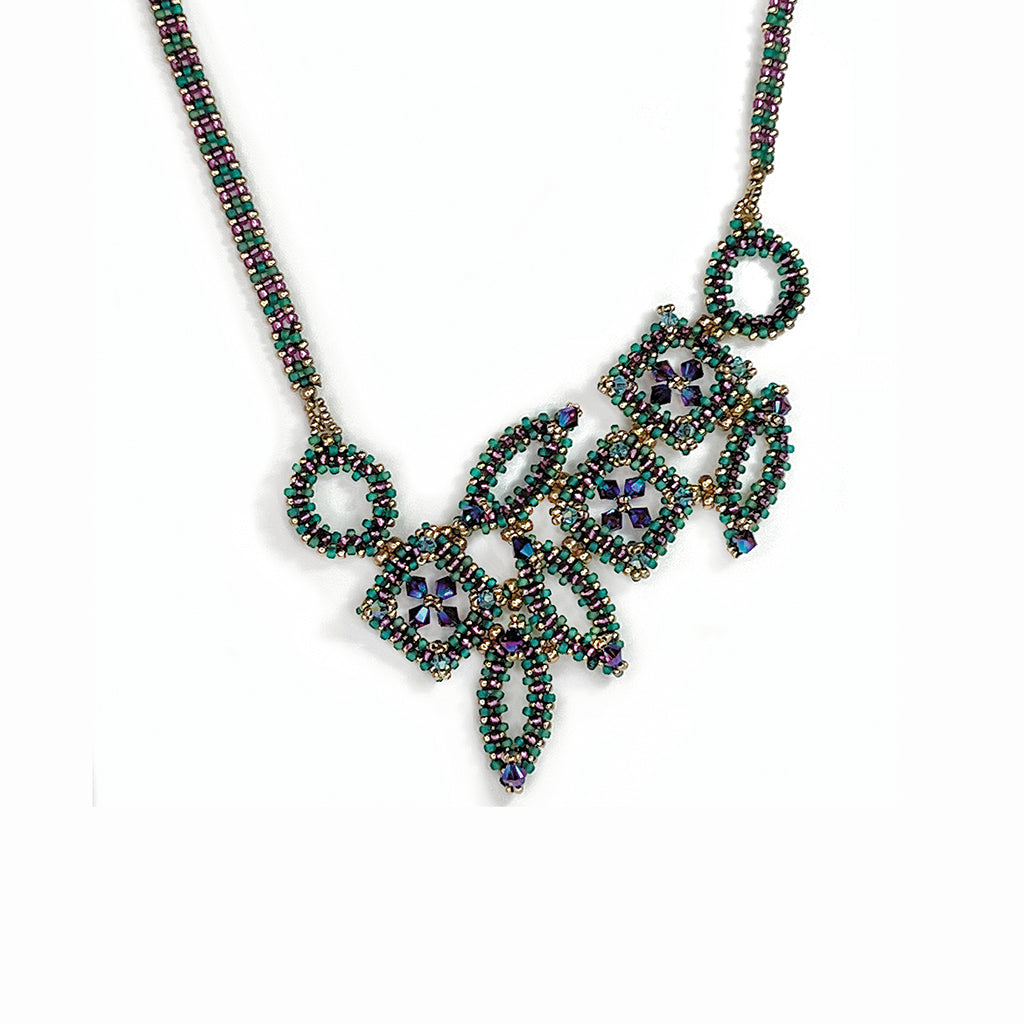 Melody
Melody uses the principles of Jazz, and some simple beaded elements. It can be worked in many different configurations. Full instructions include the Assymetric necklace, a pendant and a bracelet. But full support and suggestions for more are given in class for anyone wanting to cook up her own riff on the idea.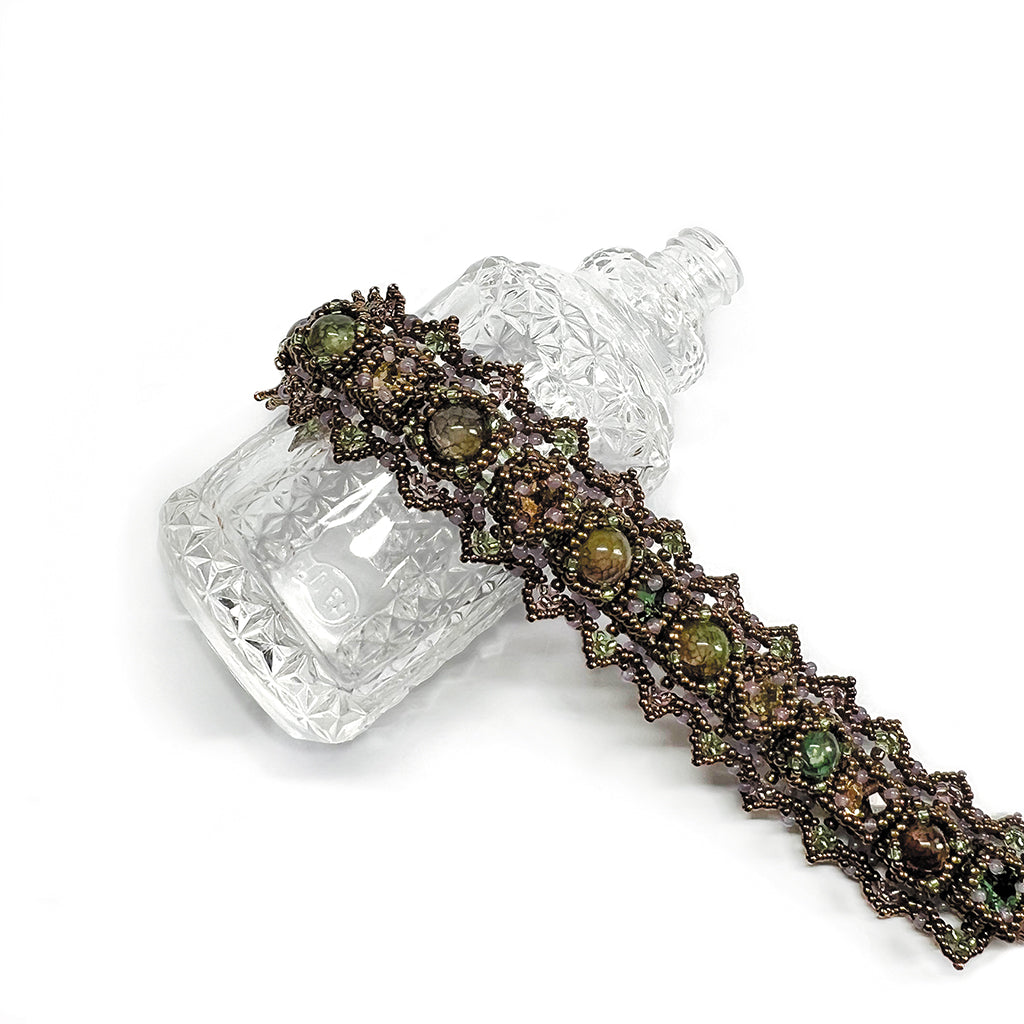 Titania Bracelet
The Pre-Raphaelite Brotherood, was a school of painting in the late 19th century, their love of Medieval mythology and rich colour palette are the source of inspiration for the Titiania's bracelet. The design showcases beautifully marbled glass beads and multi hued Chatons. With a single bezel worked in several different ways this gorgeously rich bracelet is full of detail. A dainty but intricate edging completes the design. Titania's Bracelet can be made as a bangle or with a clasp. 
Interested in booking a class?
Links to bookings for current class listing are on my Join a Class page here
If you'd like me to teach a zoom or in person class for your group, venue or event, please feel welcome to email me. info@heatherworks.co.uk